Poodle Puppies For Sale
Poodles For Sale NY
Poodle puppies for sale from Tamarack Standard Poodles, in NY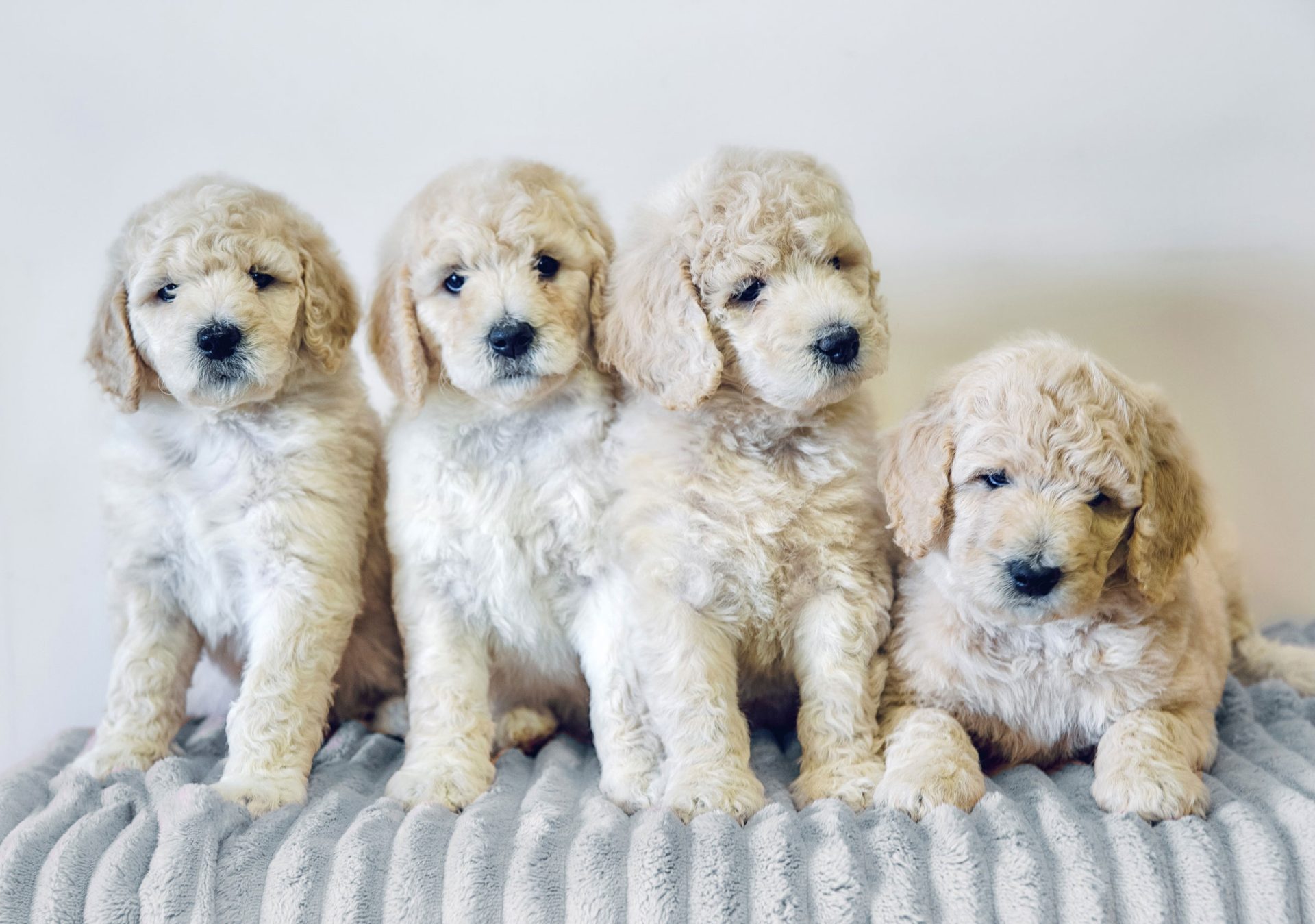 We have poodle puppies available. Primrose has a new litter of small standard poodles that will mature to be 30-40 lbs. We have red, apricot, silver, and blue puppies available Halloween week 2023. Please call or text Laura at 315-368-7316 or go to our puppy questionnair page.
Poodle Puppies NY- Tamarack Poodle's number one goal is to breed healthy Poodles with sound temperaments. We do everything in our power to ensure your puppy will grow up healthy and happy, and match your family's needs perfectly.
Family Reared Poodle Puppies For Sale
Our Poodles are part of our family and live in our home. Therefore, we have a very small number of breeding dogs, and litters are limited.
As a result, we have very few litters of Poodle puppies for sale each year.
All of our Poodle Puppies NY, are raised in our home as part of the family. Family rearing is crucial to ensure that they transition into your household perfectly.
Poodle Puppies NY- From Fully Health Tested Parents
Our poodle parents are completely health tested. X-rays have been taken of their hips, elbows, and certified through OFA and or Penn Hip. They also have cardiac, patella, and eye clearances through OFA. They have had over 160 DNA based tests run through EMBARK to determine they are clear of genetic illnesses. We have been incorporating genetic diversity testing to provide information helpful to choosing parents of potential litters. We are happy to show you both parent's health certificates and copies of their results will be included in your puppy's go home packet.
Our poodle puppies NY are raised in our home and handled multiple times daily. We use the early neurological stimulation program as well as Puppy Culture. Pups start using a litter box at 3 weeks old and begin going outside by 6 weeks. Grooming begins weekly at 4 weeks of age. Their environment is heavily enriched with toys, agility and other play equipment. Loud background noises are played frequently to desensitize them to thunder, fireworks, vacuums, and loud household noises. Temperament/personality testing is done at 7 weeks to help match families to their perfect pup. They sleep in individual crates the last week they are here. By the time they are ready for their new home at 8 weeks they are primed for learning and fit almost seamlessly into your home.
For your peace of mind, all of our poodle puppies NY are guaranteed family reared and not inbred. They come with AKC Limited Registration, a written contract, puppy starter pack, starter bag of food, first vaccination, deworming, and a thorough vet exam at 8 weeks.
Our poodle puppies for sale are personality matched. This involves you completing an owner questionnaire so we can ascertain what personality/ temperament would suit you best. When the pups are close to 7 weeks old we run them through 8 personality tests that result in them getting a score which helps determine their personality. This allows us to match owners with their best fit puppy and ensures that inexperienced owners or those with very small children don't end up with boisterous, high energy dogs.
Lifetime Money Back- Poodle Puppies NY
Our poodle puppies NY are potty trained, groomed multiple times, and sent home with some of my favorite grooming supplies. We offer a lifetime money back guarantee against serious inherited diseases.
If you are interested in having a Poodle puppy join your family, please contact us to join our waiting list. To inquire, contact us here.